Congratulations to Ellie for being elected as our mayor at Burleson Elementary! We had many great candidates! The fifth grade students created posters for the hallways and gave speeches to the entire student body! Grades 3-5 voted using ballots like a real-life election. We are so proud of each student!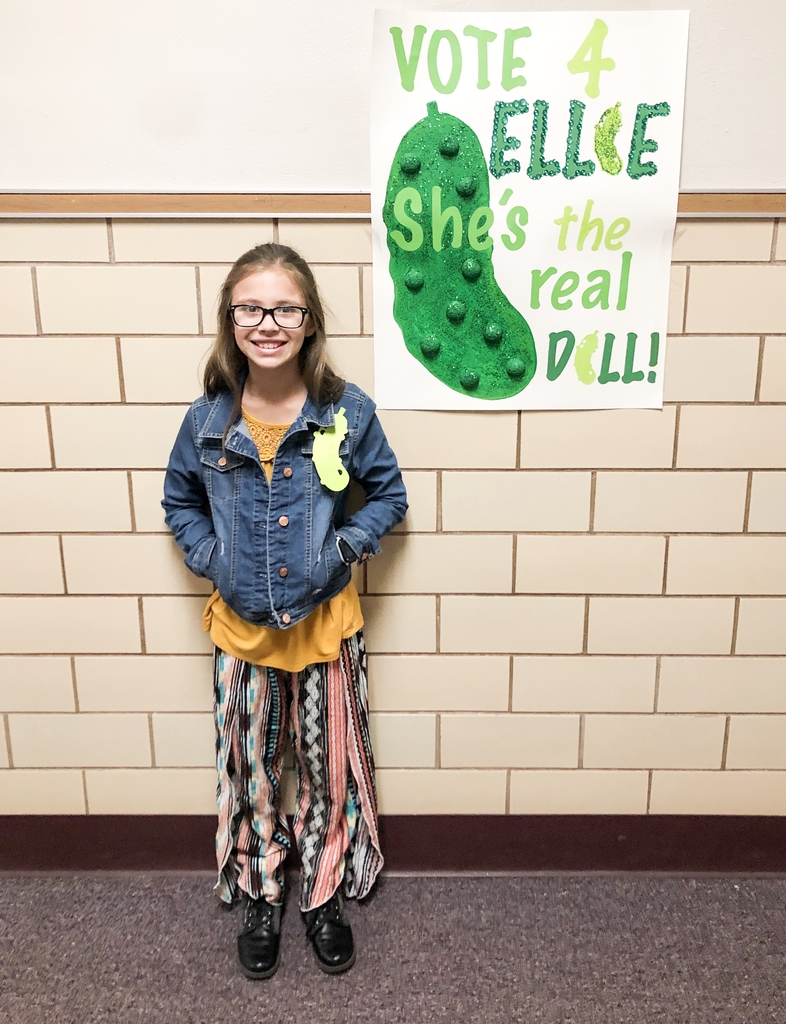 Meadow FFA would like to thank everyone that donate to our Thanksgiving food box drive!!! It is a huge success. We will be able to distribute 25 boxes on Monday. I encourage ALL Meadow FFA members to come take part in deliver Monday at 4:00 at the AG Shop. Thank You Reagan Stuart

Bronco Nation, with the Thanksgiving Holiday's upon us and the change in our basketball schedule we have decided to have an early release day Friday November 22. Buses will run immediately after the secondary lunch period at 12:30 pm. To recap Friday is as follows: School Early Release at 12:30 pm JV Girls Basketball at Ralls 5:00 pm Varsity Girls Basketball at New Home 5:30 pm JV Boys Basketball at All-Saints (Lubbock) at 4:30 pm Varsity Boys at All-Saints (Lubbock) immediately after the JV

The HS boys JV Gold will play New Home on Thursday, November 21st at 7:00 pm in Meadow.
Girls basketball this Friday November 22 JV will travel to Ralls and play at 5pm and the Varsity will travel to New Home and play at 5:30pm

Thanksgiving With Bronco Nation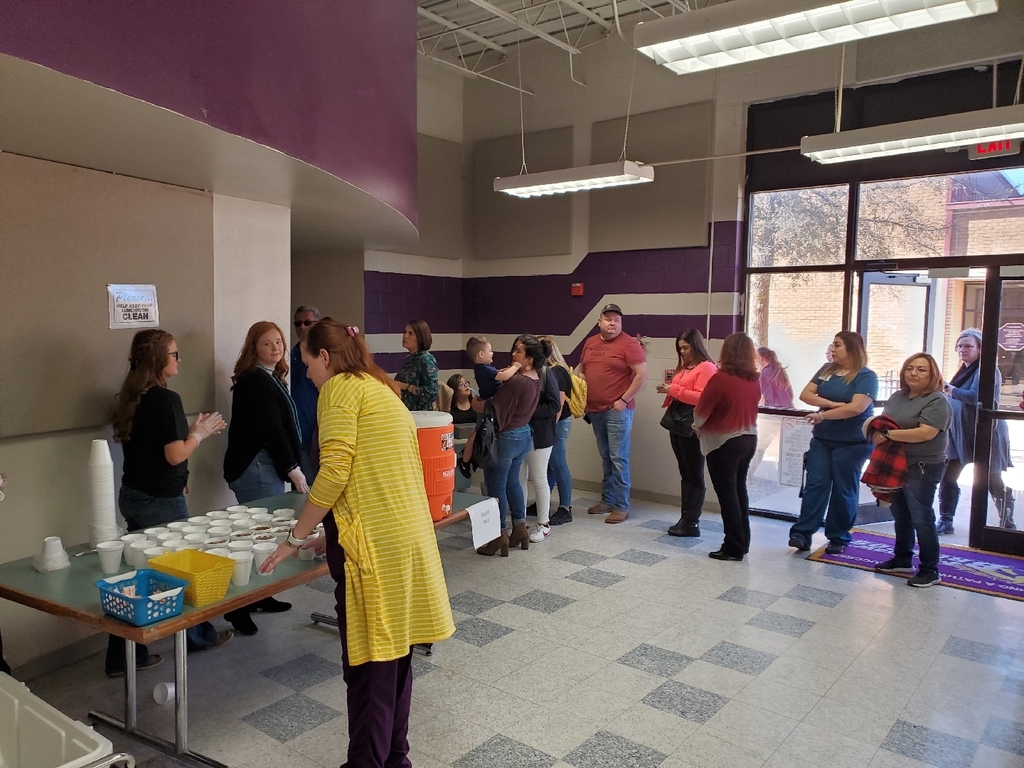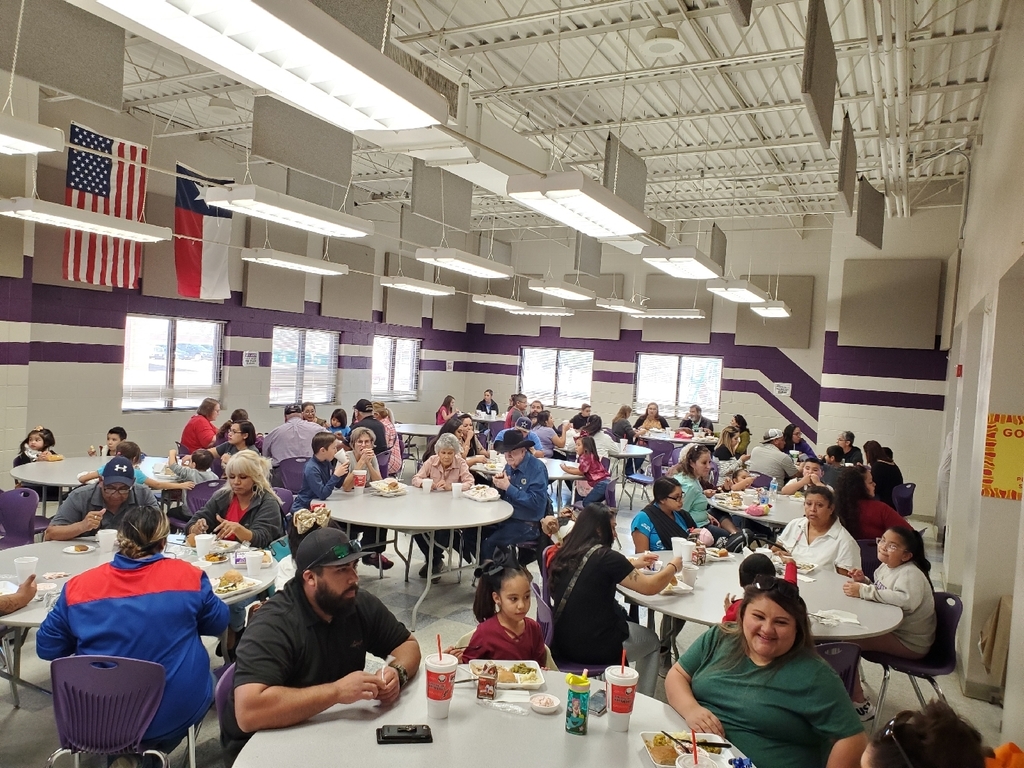 Meadow FFA Thanksgiving Food drive is going well. We greatly appreciate everyone that has donated! We are still in need of some items.(See attachment) Please bring any donations to the AG Shop. We will be collecting this week and handing them out next Monday. Again Thank You!!!!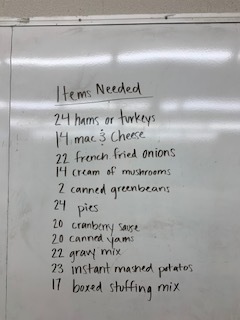 The JV and Varsity boys will play at All-Saints in Lubbock this Friday. JV at 4:30 followed by the varsity at 6.
Our Broncos Robotics FTC team #16955 ranked 6th at today's league play in Denver City. Proud of these students for their hard work inside and outside of class to prepare for this new level of robotics.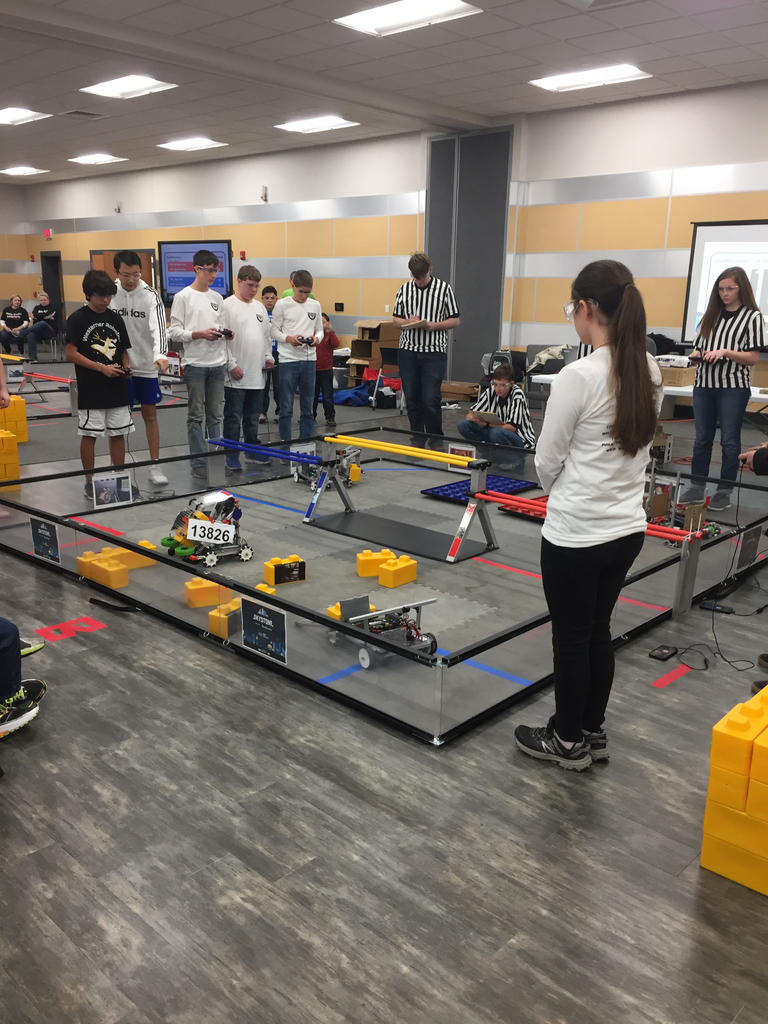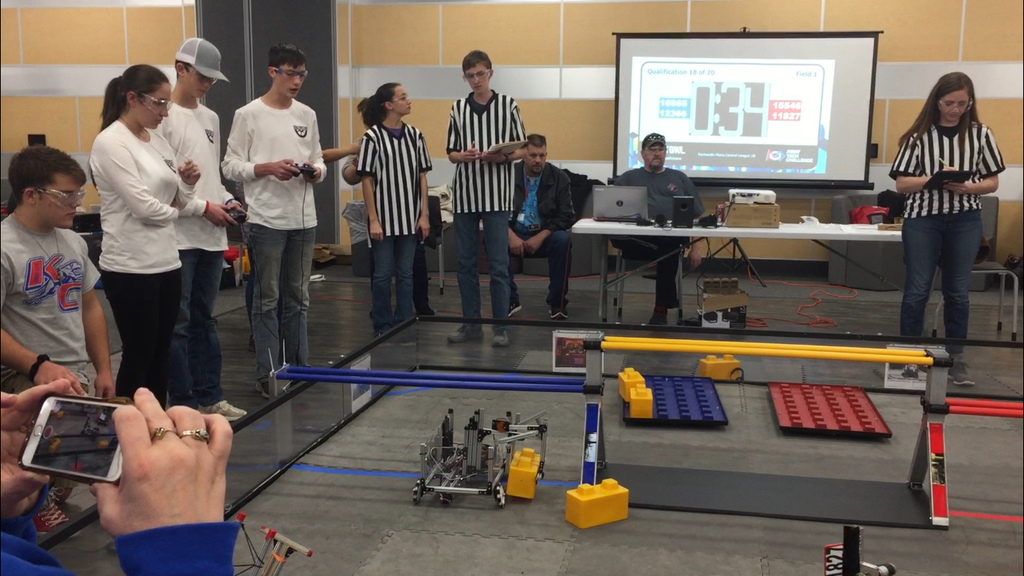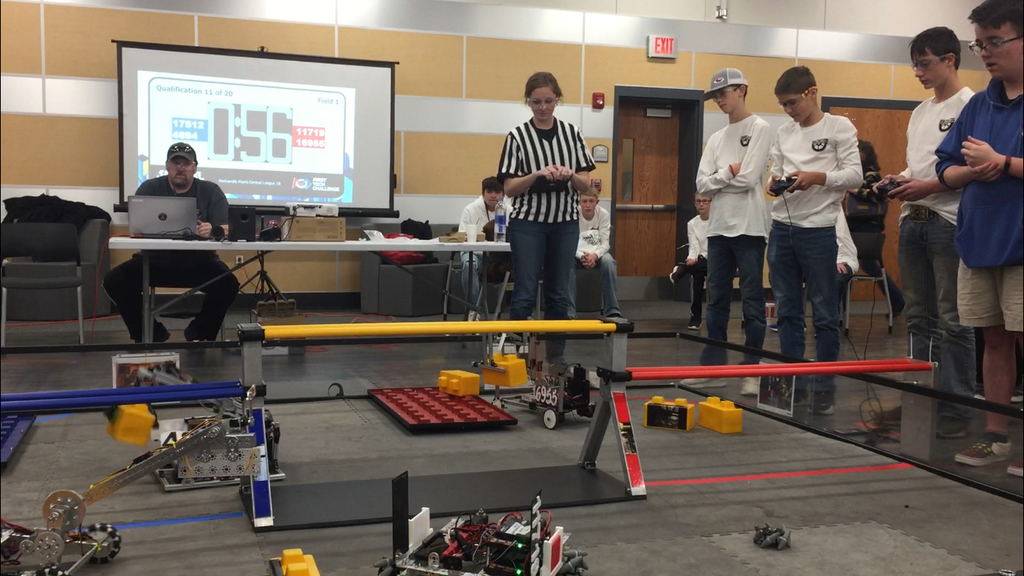 Robotics round one!!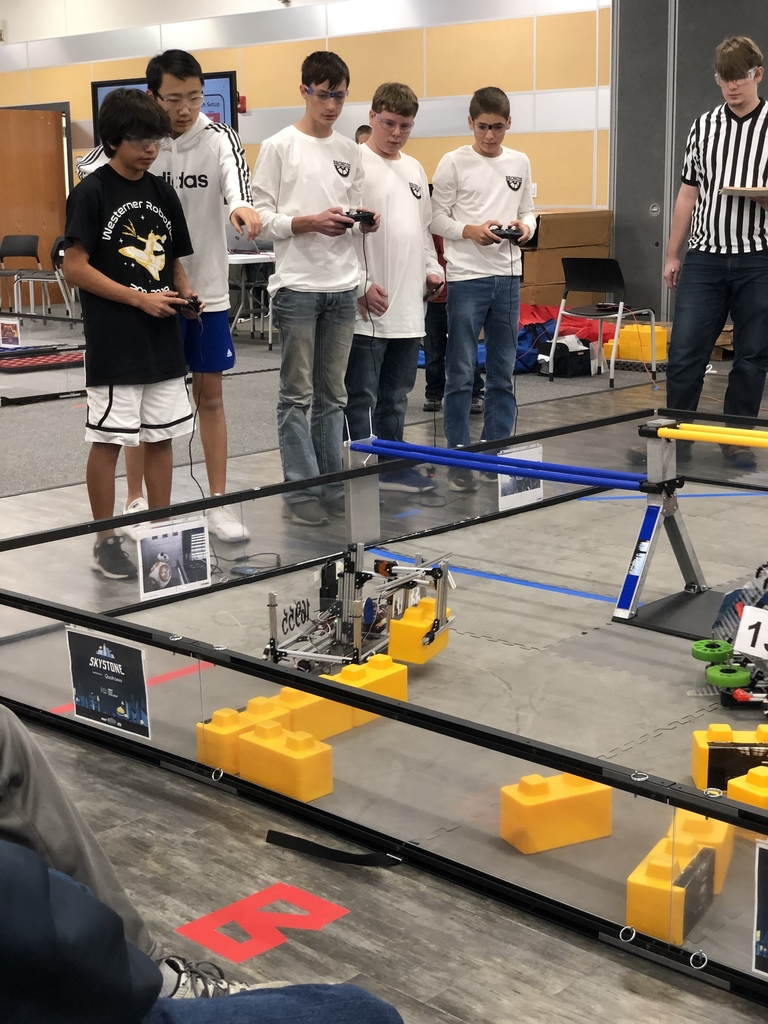 Congrats to Lexi Humphrey for being selected as a AG Texas Student of the Month. Very proud of this member of our Meadow FFA Family!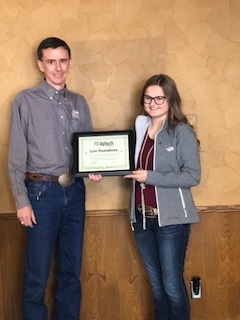 Buses will be running at 3:50 pm

Meadow Basketball T-Shirt are now on sale!!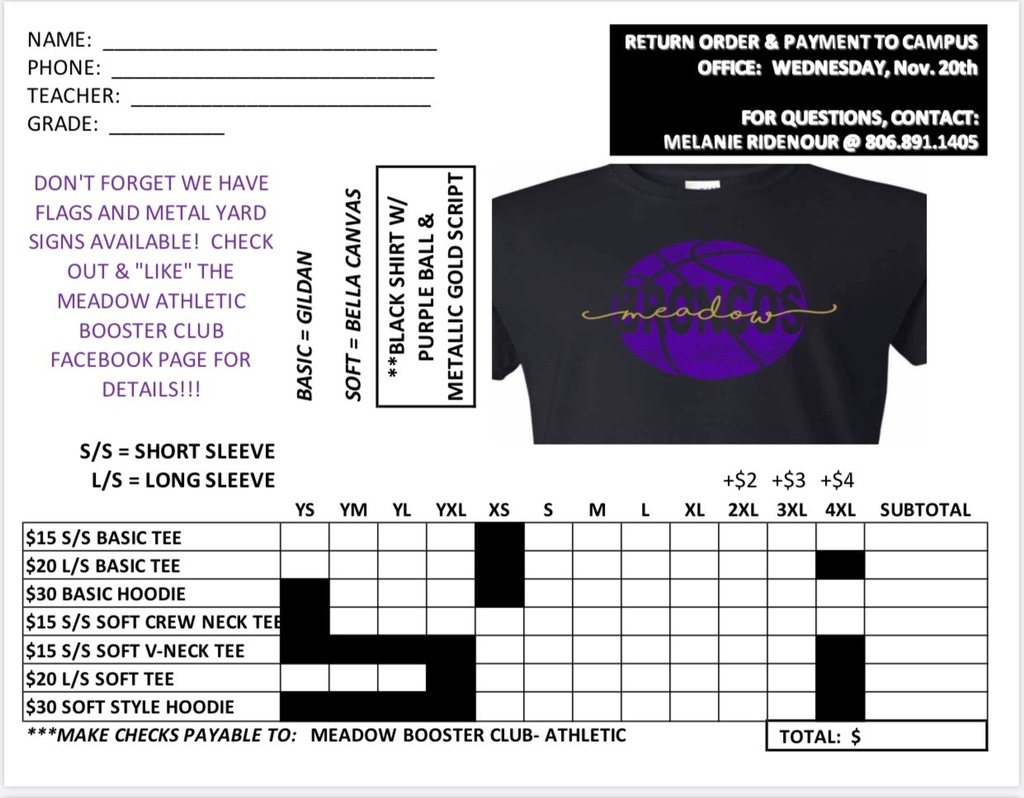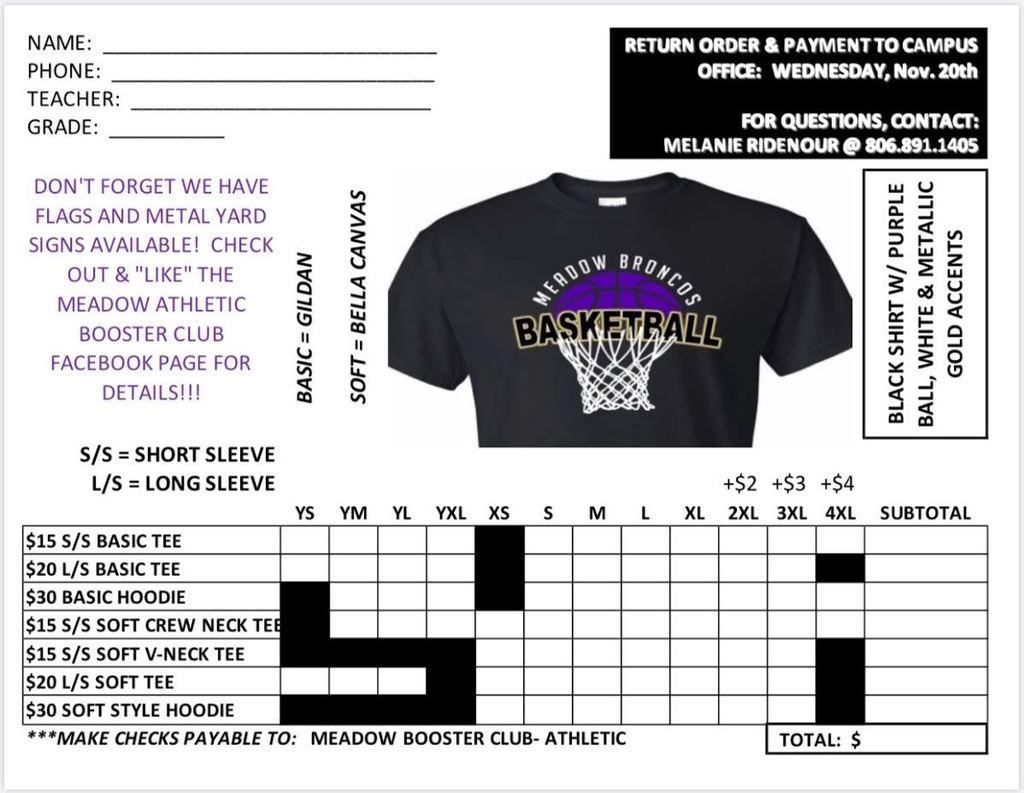 Just a reminder! Meadow FFA is currently collecting items for Thanksgiving food boxes to give to our community members. We are in desperate need of your help! If you have items or connection to donations please bring them to the AG Shop. Attached is a suggested list. THANK YOU!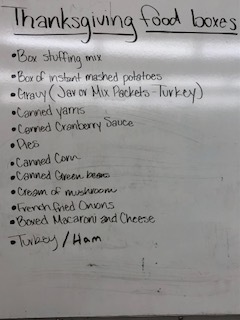 Meadow FFA is taking donations for food boxes to give out to members of the community. Our Goal is 25 boxes. Please help us fill these boxes! We can take donations now at the AG Shop and they will disbursed on Thanksgiving Week. Thank You for your help!!!!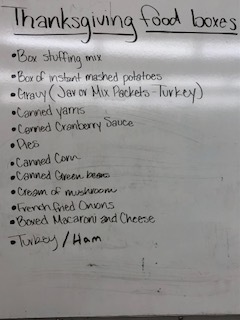 We will be taking our District Photo tomorrow...PLEASE EVERYONE WEAR PURPLE!!!

Bronco Nation, Once again I'm sending a reminder about our pick up procedure for school release. You must be parked on the curb/sidewalk area to vacate your vehicle. DO NOT FOR ANY REASON STOP OR PARK IN THE STREET. If a spot is unavailable please simply make a block and one will free up. Thank you in advance for your help in this matter.

Meadow FFA is organizing a Thanksgiving Food Gift Boxes to benefit members of the Meadow community. FFA members will be collecting items until Nov. 22nd at the AG Shop. All donation are welcome. Attached is a list of suggested items for the boxes. Thank You for your help!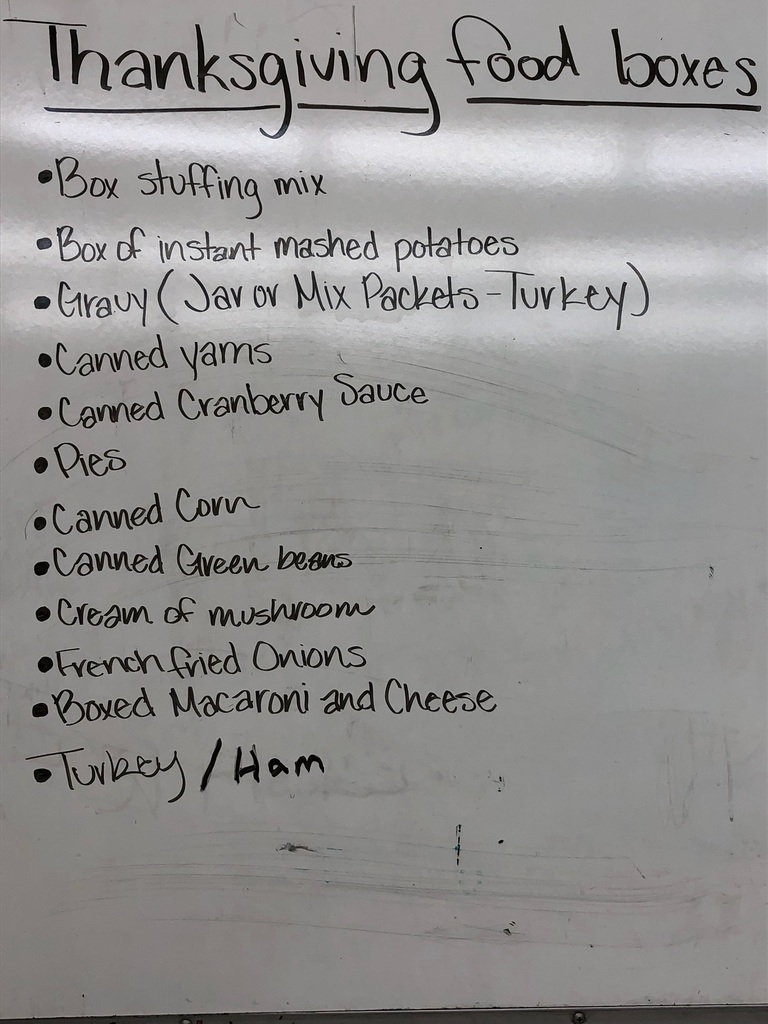 Forensic Science finished up their Fiber Unit last week. They used the fiber burn analysis method to identify different types of fibers by observing how the fiber reacted when heated or placed in the flame. This then helped them identify the type of fiber left at the "crime scene" and "gas station" to identify the culprit.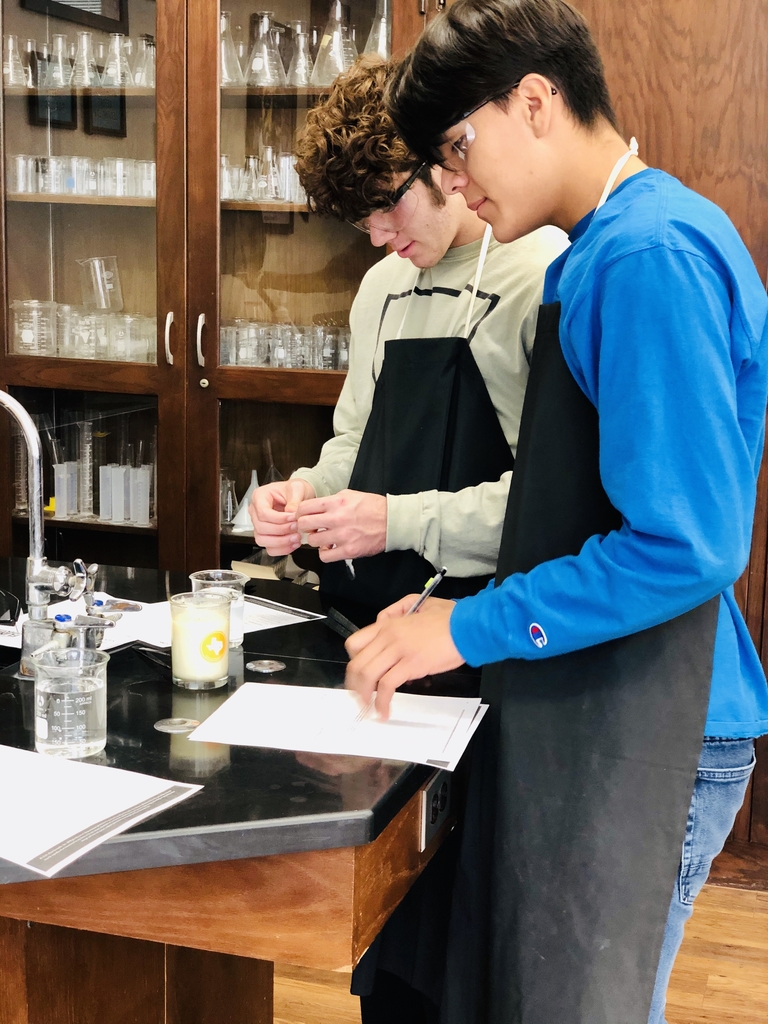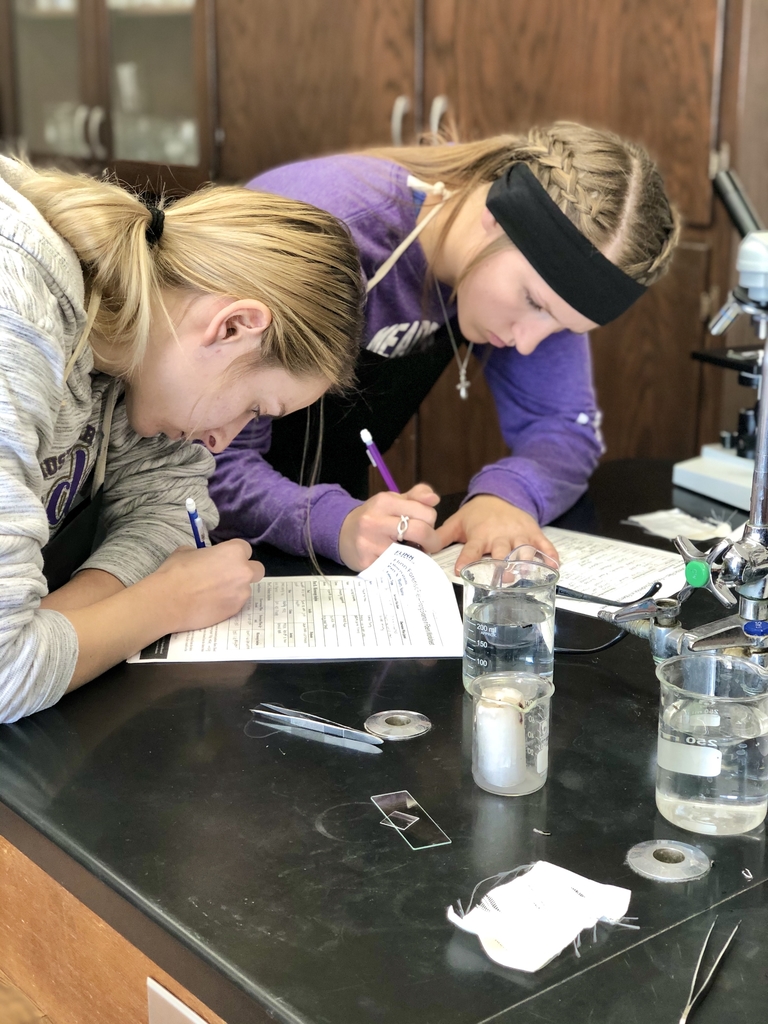 Our Meadow FFA family is hard at work! It was a great site to see all our members come out and help cleanup our section of highway that we are sponsoring. We had lots of fun while giving back and doing our part.