Football Scrimmage in Anton on Friday, August 12th.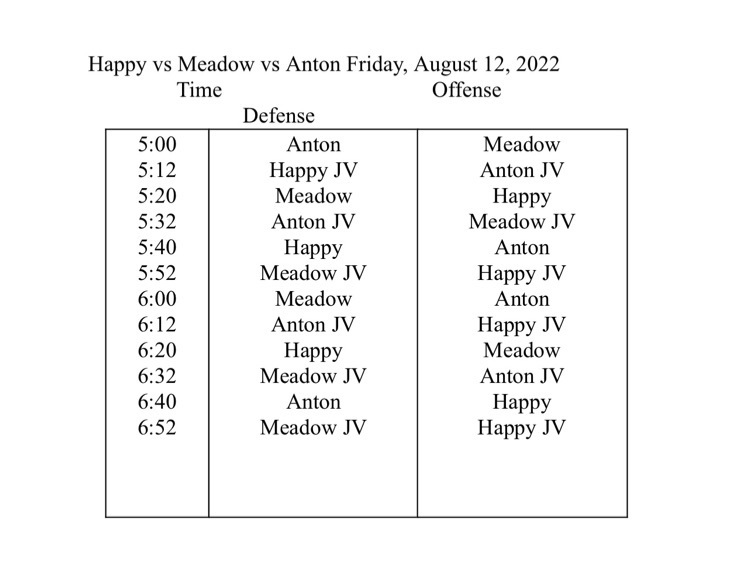 A reminder for those of you who have not had a chance to register. We will have registration in the Media Center tonight, August 8th, from 5pm to 7pm. All grades. Thank you.

Steve Gomez was our guest speaker this morning. The Meadow ISD staff is thankful to Coach Gomez for sharing his wisdom and taking the time to visit with us.
Here are the Cross Country Schedule for the 2022 HS and JH. #SHAKA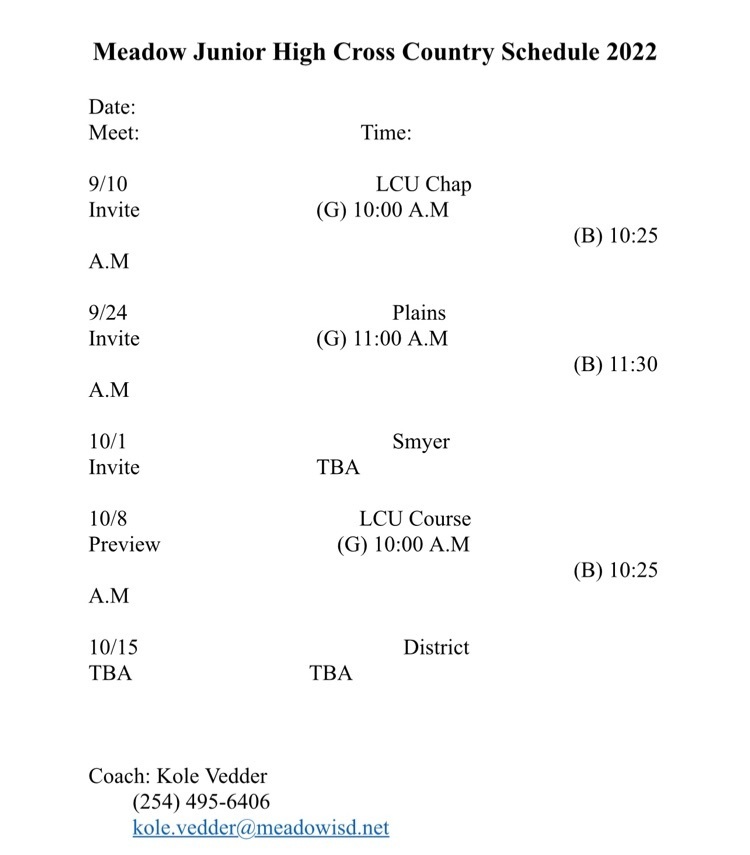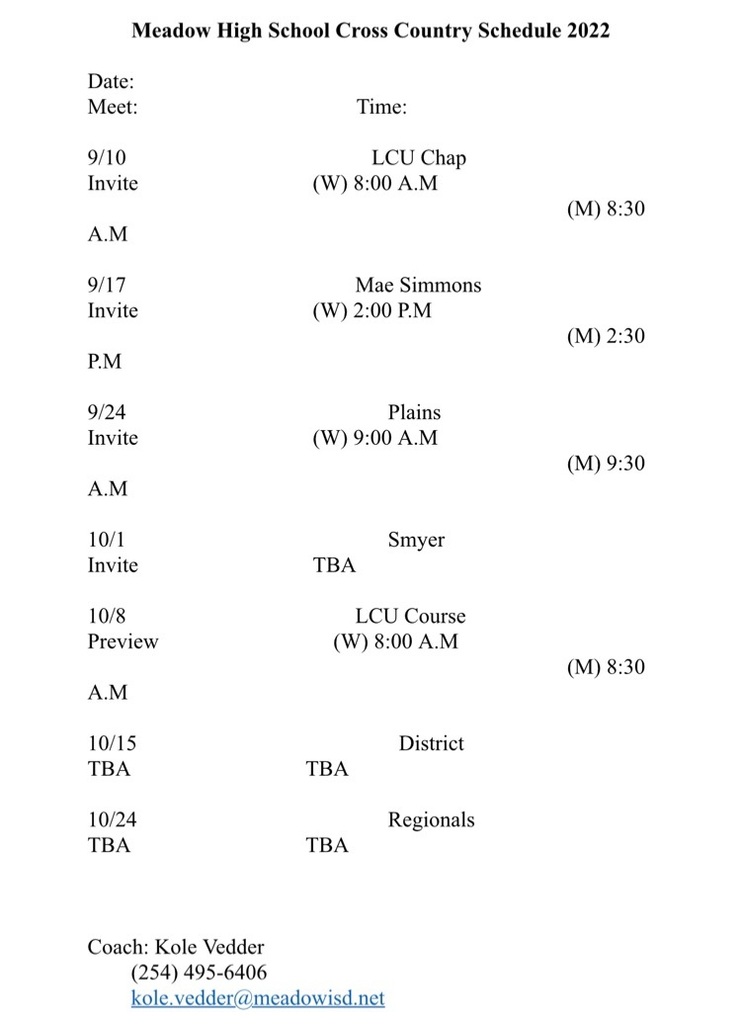 Next Week on August 11th we will have Meet the Teacher & Meet the Broncos. There will be a hot dog meal provided in the Cafeteria starting at 7:00 PM. We look forward to seeing you all and getting the school year started. 🐴💜💛 Meet The Teachers @ 5:30 PM -Start in the competition gym Meal @ 7:00 PM - In Cafeteria Meet The Broncos @ 7:30 PM - In the competition gym
Congratulations to Isabel Fraire for being selected as a recipient of the CH Foundation Scholarship totaling $3,000. This scholarship is awarded through the Texas Interscholastic League Foundation for State UIL participants with each award having a potential renewal for an additional three years. Way to go Isabel!
Good Morning! Registration opens today! Parents, you should have an email from our new registration portal ZippSlip. If not you may sign up or login at
https://www.zippslip.com/zippslip/PermissionManager/TX/district/MeadowISD
You can register from home if you would like or you can come to the school and we can assist you. If you have any questions or issues please contact our IT department at 806-539-2246 opt. 4 Thank you!

Hopefully this is the last update on registration. August 3rd will be New and Returning ELEMENTARY students. 9am-12pm & 1pm-3:30pm in the Media Center. August 4th will be New and Returning SECONDARY students. 9am-12pm & 1pm-3:30pm in the Media Center. Monday, August 8th will be for all grades from 5pm-7pm in the Media Center. Look for instructions for online registration sometime in the morning. Thanks for your patience.

Due to the power outage today, we are pushing registration by one day. We will register the 3rd-5th. I'm sorry for the inconvenience but this is a situation beyond our control. Thanks for your understanding.
Parents, below is the 2-a-day schedule for the 2022 football season. We look forward to a great season. #SHAKA

Here is the registration information for next week.
Reminder: Monday, August 1st. All High School Football Players please report to the field house at 3:00 pm. Cross Country Athletes please report to the school at 9 am for workouts. Please have your physicals completed and turn them in to your coach. Thank you. #SHAKA

Many of you have inquired about school supply lists and registration. We have just concluded hiring our staff and are checking to make sure we have a complete list before we publish. We will have those lists for you in the next couple of days. Registration will occur in the first week of August, but I do not have the exact dates yet. The software and forms are not complete. The company that does this for us is working as fast as they can. Our hope is for both to be finished by the end of this week. I will push the final dates out just as soon as I get them. Thank you.
To all Athletes, Cross Country will begin on August 1st at 9 am. Football will a begin on August 1st at 3:30 Be sure to have your physicals ready. #SHAKA

Congratulations to Maggie Ridenour, Taylor Caswell, Wes Woodard, Bryden Smith, Trevor Brockway, and J'Leigh Tarin for receiving their Lone Star Degree at the state FFA convention in Fort Worth this week.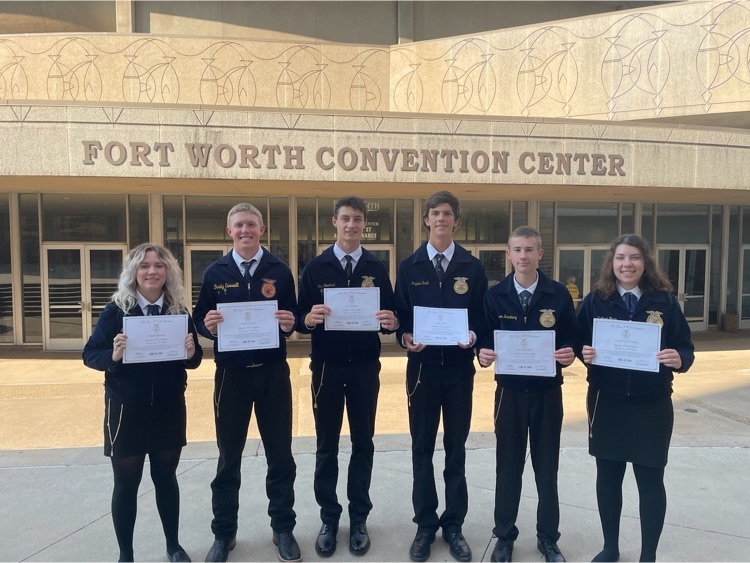 As we rush towards the beginning of the 22-23 school year I want to look back at 21-22 and reflect on the many great accomplishments at Meadow ISD. Athletics started the year off with both cross country teams qualifying for the regional meet followed by the Bronco football team qualifying for the playoffs for the first time since 2016. The boys had to upset both Whiteface and O'Donnell in the last two weeks of the season and did so in dramatic fashion. Both basketball teams qualified for the playoffs for the 2nd year in a row. The JH UIL academic squad finished third at the district meet. The spring saw numerous area and regional qualifiers in track. Boys golf qualified for the state tournament for the 2nd consecutive year as well. Niko Castaneda was crowned the 1A state champion in Powerlifting. The spring also saw great success with FFA and FCCLA students qualifying for state contests along with Meadow FFA competing very well in the major stock shows across Texas. The One-Act Play and UIL Academic teams were crowned District Champions and the UIL Computer Science team competed at the state UIL meet. Junior High Robotics qualified for their playoffs and the high school Robotics team qualified for state. Elementary STAAR scores are rapidly approaching and in some cases have exceeded pre-pandemic levels. I'm sure there are some that I missed and as we look forward to a new school year it is clear that the bar is being raised at Meadow ISD and I couldn't be prouder of our students and teachers who are making it happen.

Students who are attending the state FFA convention will leave at 6:00 am from the Ag shop on Monday, July 11th. We are sending three adults to the convention. Mr. Atcheson-Secondary Principal, Mrs. Bentancourt-Elementary Principal, and Ms. Wheatley who is our new Ag Sciences instructor. Best of luck to our competitors and have a great convention.

For those students who are planning to attend the state FFA convention, more specific information will come out Tuesday as far as who will be taking you and departure time. The trip to the convention is still on as originally scheduled. Look for info on the 5th. Thank you.

Meadow ISD will be closed from Friday, July 1st through Monday, July 4th to celebrate Independence Day. The office will re-open on Tuesday, July 5th. Thank you.